Build
faster
better
safer
by unlocking the power of your data
See and log everything that happens on your construction site. Create easy time-lapses, let your team track progress online, and start calculating site efficiency. With AICON's AI & ML powered smart data platform.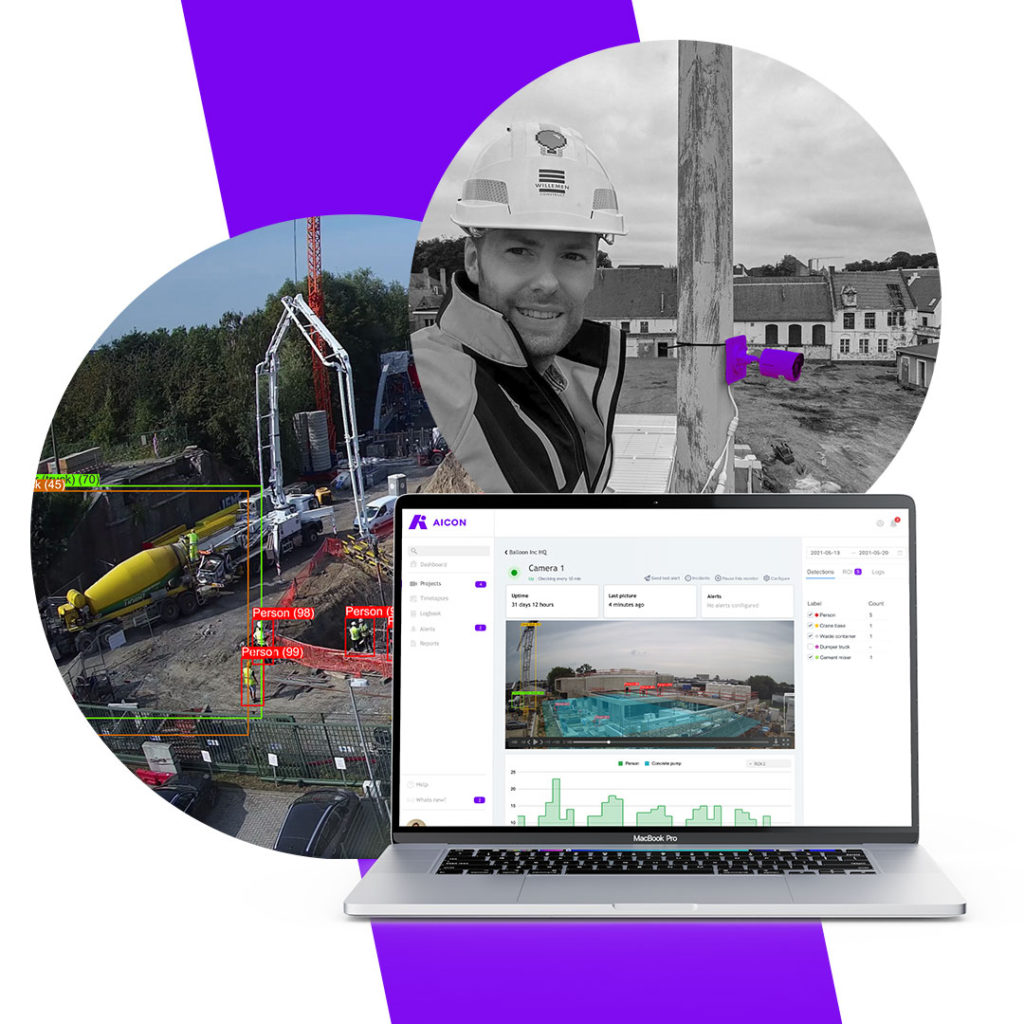 Save time by having a 24/7 view on your site. Track progress, get notified on deliveries, reduce risks.
Align communication between all parties in a single platform. Document progress through a site diary with all events available to everyone.
Get insights into site efficiency. Start monitoring person hours, machine and material efficiency, and report on financial KPIs. Learn from mistakes for future estimates.
10,000,000
images processed
500+
notifications sent out
Open up a data-driven view of your construction site.

With AICON's analytics engine.
Get your construction site safe, on-track, and on-budget.
Get a 24/7/364 live view. And a full history, too.
Understand safety issues and prevent accidents
Get a permanent view on your site safety. Spot safety violations, keep track of PBE regulations, define and monitor no-man zones, and more. Then document issues to enforce better safety. Start understanding why accidents happen and prevent them in the future.
13%
of all inspected sites have safety issues.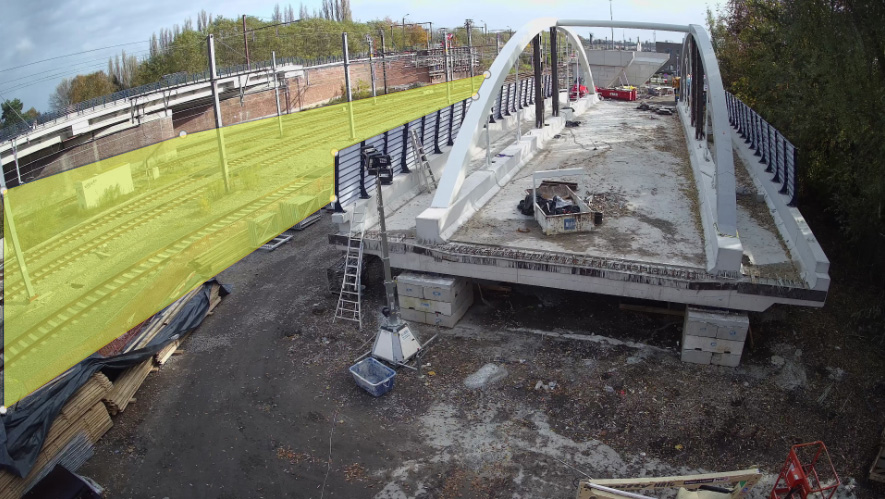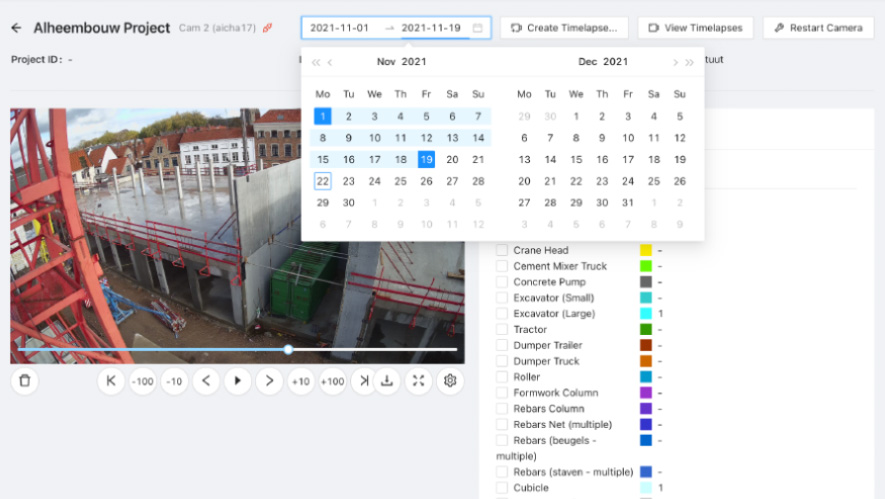 Coming Soon:
BIM-model overlay
Track real-time progress and adjust your planning
Monitor your project progress as it happens. Compare your live status to your planning and see where things are running behind. Plan ahead, re-allocate resources, and make real-time updates to your planning based on accurate and up-to-the-moment data.
4 op 10
construction projects finish behind schedule
Stay on-budget by monitoring efficiency
Keep budget overruns in check by learning how and where people and machines work. Start tracking efficiency, both real-time and historically. Then adjust your resource planning to maximize efficiency and to avoid costly budget increases.
Each construction project has between
5-15%
of avoidable failure costs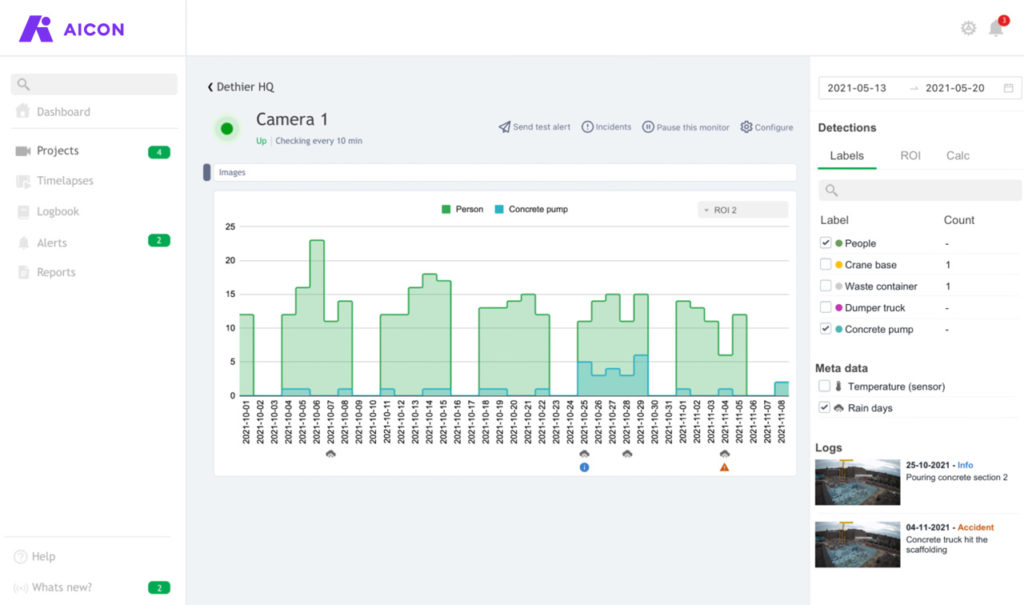 See how AICON helps you build better
How AICON helps customers succeed
"With AICON, we have a bird's eye view of every project that's just a click away. It lets us anticipate and shift work from reactive to proactive."
"The data we're collecting today will allow us to build more efficiently in the future."
24/7 live cloud dashboard

Edge detection @ 6 frames/min

Teams & Slack integration
* Retention limit applies to Images. Reports/analytics are kept as long as you remain customer.


Everything in the Professional plan

No watermark on timelapses

3 tailored analytic reports per year**

On edge detection @ 60 frames/min

Technical & workflow support
* Retention limit applies to Images. Reports and analytics are stored for as long as you remain customer with AICON. ** Examples: efficiency of formwork installation / cross site comparison / equipment usage per day.
By construction engineers, for construction engineers
We know how the construction process works, what the pain points are, and where you can improve. We've been there and we can help you find the obstacles and see the solutions.
Integrated hardware & software leasing solution
One integrated leasing solution provides peace of mind. We manage the software and hardware. From remote diagnosis to proactive monitoring and updates.
Cutting-edge AI & ML technology at your fingertips
We use state-of-the art data and algorithms that are continuously getting smarter. Just like your construction site. As models and data get updated, so does your next project.
Discover a smarter way to build
Drive speed, safety, efficiency, and profitability.